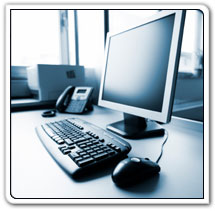 IT Management - IT Support
MICRO-MAINFRAME can combine resources for several disciplines to develop or implement targeted solutions. These solutions can range from IT management and support to custom Internet/Intranet applications and network implementations for your LAN, internet presence, or remote connectivity needs.
MICRO-MAINFRAME has expertise with all Microsoft operating systems and communications servers, We support and maintain Windows Server and Exchange Server as well as provide extensive support for prior versions and migrations. Support for all configurations of Dell Poweredge servers running the aforementioned server solutions is available. For PC based operating systems and productivity software, MICRO-MAINFRAME supports Microsoft Windows and continues support for older systems where applicable. Complete IT management and IT support services are available and customized to your needs.
Consulting Services
M-M is available on a consulting basis to assist you the implementation or use of any of the above services.