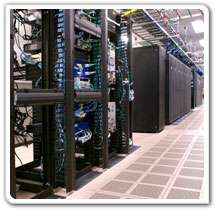 Networking Components
MICRO-MAINFRAME designs and implements IT solutions utilizing a wide range of computing and information technologies and techniques. Whether your solution requires "off-the-shelf" software or hardware or something unique and custom, MICRO-MAINFRAME is capable and ready to handle your IT needs.
Firewalls
MMC can assist or set up front end network protection and access with firewall setup, maintenance and administration. We have experience setting up and configuring both local and global VPN networks, inbound/outbound rule settings, debugging and troubleshooting, and more. Let our over 30 years of experience in the industry help set up both a trouble free and secure network.
Server Cabling
MMC provides server and network cabling services for server rooms and offices. See our cabling page for more information.
Contact Micro-Mainframe to see how we can assist you set up and support your individualized network and IT infrastructure. We provide both support for existing networks and networking components, as well as full turn key network setup and network management. Located in The Woodlands, Texas.