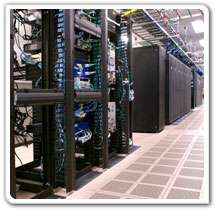 Network Solutions - Houston, The Woodlands, Texas
Many internet based options exist for an ever changing technology landscape. For the highest performance the choice of local servers and services is often required. For internet facing solutions a different set of rules apply, primarily related to security but also containing elements of availability, performance, bandwidth and support. MICRO-MAINFRAME is adept at configuring solutions for all the above and supplements your needs for onsite performance with complete support for your operations and where the solution dictates outsourcing, custom Internet hosting and services are provided on your equipment or ours at our facilities or other third party hosting locations.
All MICRO-MAINFRAME services and solutions are available on your infrastructure or ours.
Consulting Services
M-M is available on a consulting basis to assist you the implementation or use of any of the above services.
Intra and Inter Network design, sales, and implementation services
Domain Name Servers (DNS) configuration and maintenance
Web servers/farms using Microsoft IIS
E-Mail servers using MS Exchange or Visnetic Advanced SMTP/POP/IMAP
Database servers using MS SQL SERVER
Contact MICRO-MAINFRAME today for assistance with creating, maintaining, administrating or managing your network solution in Houston, Conroe, The Woodlands, or any surrounding area.
Other Network Services: